Product Description
RAGE SAVAGE PRE-WORKOUT
Warrior Rage SAVAGE Pre-Workout
40 PACKED Servings!
PeakO2!
Dynamine!
6G Citrulline Malate!
3.2g Beta Alanine!
World Beating Dosing!
World Beating Formula!
Only the best pre-workout from Warrior.
40 Power-PACKED Servings!
Incredible Flavours!
PeakO2!
6G Citrulline Malate!
3.2g Beta Alanine!
Dynamine!
Dairy Free
Genetically Modified Free
Gluten Free
Vegetarian
Ingredients
Facts
40 Servings
(Serving Size 1-2 Scoops)
Ingredients Per Serving
8.25g/16.5g
Active Ingredients (Per 1 Scoop / 2 Scoops):
Citrulline Malate - 3g / 6gBeta Alanine - 1.6g / 3.2gCitrulline Nitrate - 750mg / 1.5gTaurine - 500mg / 1gPeakO2 (Cordyceps Militaris (Cordyceps), Ganoderma Lucidum (Reishi), Pleurotus Eryngii (King Trumpet), Lentinula Edodes (Shiitake) and Hericium Erinaceus (Lions Mane). - 500mg / 1gDynamine (40% Extract) - 100mg / 200mgBitter Orange Peel - 125mg / 250mgCaffeine Anhydrous - 125mg / 250mgCholine Bitartrate - 250mg / 500mgL-Tyrosine - 375mg / 750mgVitamin B6 - 12.5mg / 30mgBioperine - 2.5mg / 5mg
Allergen Warning: Produced in an environment that produces Milk, Egg, Soy, Wheat, Peanuts and Nuts.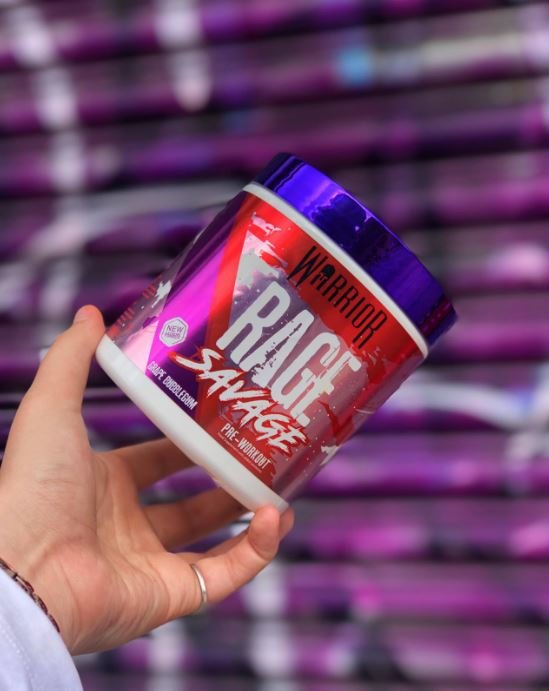 THE WARRIOR® ETHOS
Warrior® was created with a single purpose in mind – a single, solitary goal. To bring to market the best sports supplements in the world, and improve the athletic performance of those who consume them. We want to help those dedicated athletes who leave everything on the battlefield and strive with each training session….to become the best that they can be.